Become a member of the All- Inclusive 360° Assist Program Plan and be benefited
from free and additional service for all products!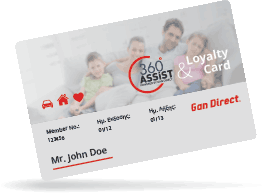 Every customer of Gan Direct, has the opportunity to participate in Gan Direct's 360° Assist Program by registering on the activation button.
With your unique reference Number given to you as a member, you may also fast track and cut corners  each time you need us!
REGISTER
Benefit with Holistic Services,
"A Complete Concierge Service!"
For all our products you can benefit a number of Free services according to the product owned:
HOW TO PARTICIPATE IN THE PLAN:
You can participate in the 360° Assist Program Plan by becoming a member by:
Upon registration, you will receive an email containing information about the Plan while our company will store the
personal details you enter on your registration form (Full name, Assured Code, Address, Mobile, Email). This
information will be used for promotional purposes, such as email/sms campaigns.
Additionally, all customer can benefit from the Network of Associates special
fixed prices and discounts on selected services for all of our products. 
Upgrade Your
Assistance Plan and Services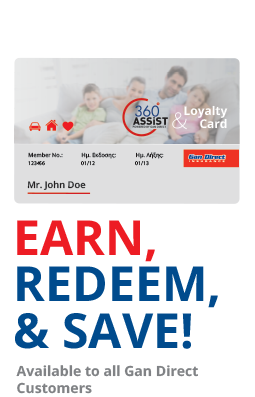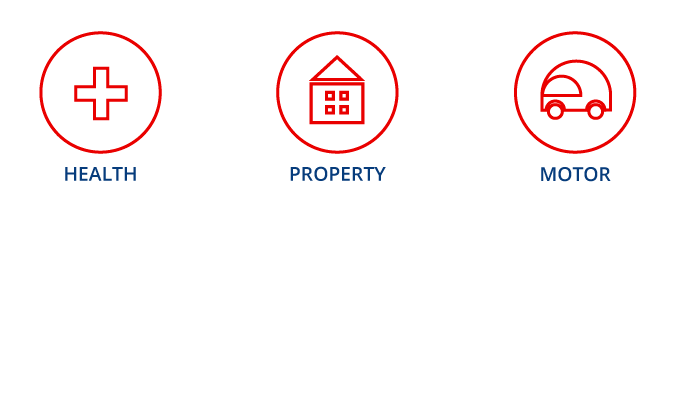 Statement
After signing in the client's Account on Gan Direct's website under "Account Details", customers will be able to see their account details together with all available services, and benefit from free services for all "Free 360° Assist Services".
Changes to the plan
In addition to the specific changes referred to in these Rules, Gan Direct reserves the right to change the plan or the Rules at any time by giving customers an online notice.
Information about the Plan
Customers requiring any information or assistance in connection with the plan can call at 800 5 10 15 (or if overseas on at +357 25 885 885), our customer service team is available 24/7, 365 days a year. Moreover, customers can visit one of our branches between 8am and 6pm, Monday to Friday, excluding bank holidays.
Notices
Any notice under these Rules may be given personally in writing or displayed in our branches and website.
Cancellation
In case of Policy Insurance cancellation prior to its expiration date, Gan Direct reserves the right to terminate the Gan Direct 360° Assist Services with immediate effect.
MOTOR INSURANCE
Free 24hr FastClaim and 24hr Assistance

Free Courtesy Car in case of an Accident

Free Courtesy Car in case of  Breakdown

Free Claim Support Service

Free Legal Protection Assistance

Easy renew in 3 clicks 
PROPERTY INSURANCE
Free 24hr FastClaim Assistance

Free 24hr Home and Business Assistance

Free 24hr Response Property Assistance

Instant visit  at the scene of the accident

 

Save 33% off your existing Policy

Easy renew in 3 clicks 
HEALTH INSURANCE
Free 24hr FastClaim Assistance

Free 24hr Casualty Care  Assistance

Free 24hr Health Helpline Assistance

Free 24hr Coordinating Centre

Switch and get 30 days Free Cover

Easy renew in 3 clicks